Blog
VIVISTOP Mini #1 – two-week creative chaos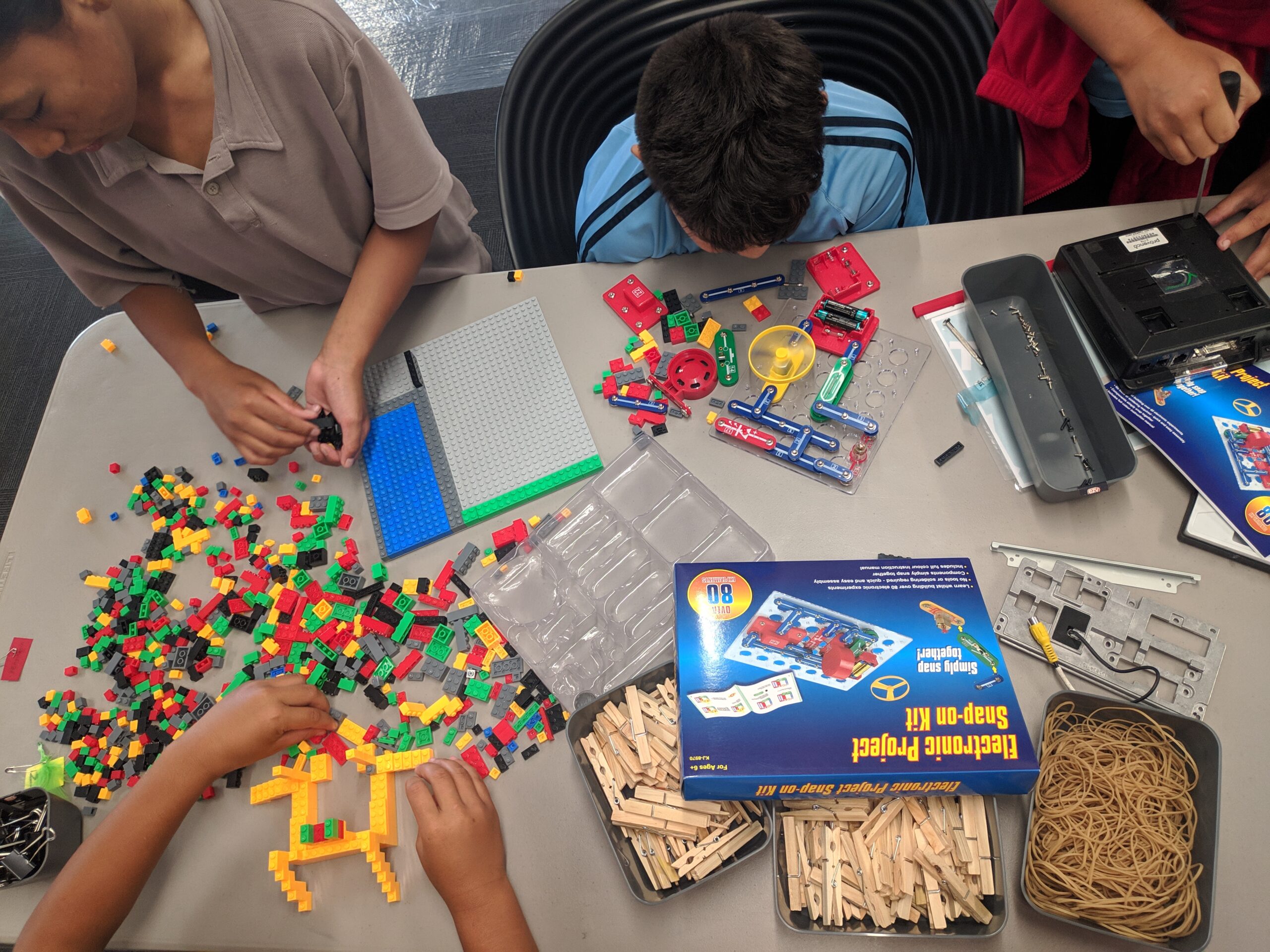 The very first VIVISTOP Mini pop-up events took place in early March at the Pasifika Hub – co-created and delivered with Failoa Family.
VIVISTOP Minis are like tasters of the environment and activities of VIVISTOP Studio. The pop-up space and event are curated around themes and topics suggested by the kids or the mentors and volunteers. For the first VIVISTOP Mini, we had two types of activities: free flow and short-form workshops.
Free flow – where creativity flows freely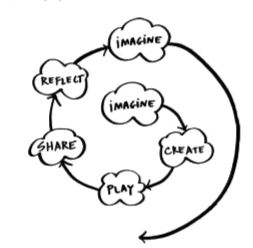 For two weeks in a row, Wednesday to Friday, young creators were able to spend their free time in a "free flow" environment that catered for various interests: woodworking, crafting, engineering, animation and 3D printing. The kids could work on any project they wished and use all tools and materials available for them. Combining multiple mediums such as wood and crafts, unique and creative ideas were born. Free flow is a creative (thinking) process that flows through a spiral of imagining, creating, playing, sharing, reflecting (Lifelong Kindergarten).
It is emulating environments that increase natural curiosity in children while offering them opportunities to tinker safely. VIVISTOP Studios and pop-up spaces are set out to do exactly that – provide a safe space to imagine, make and learn.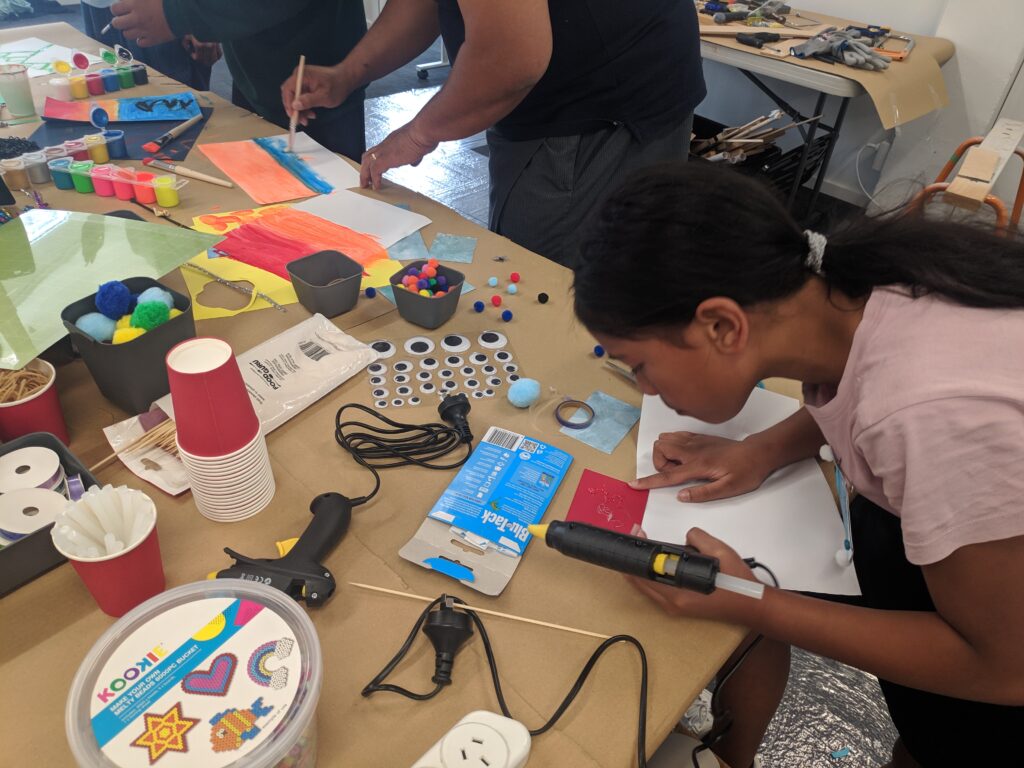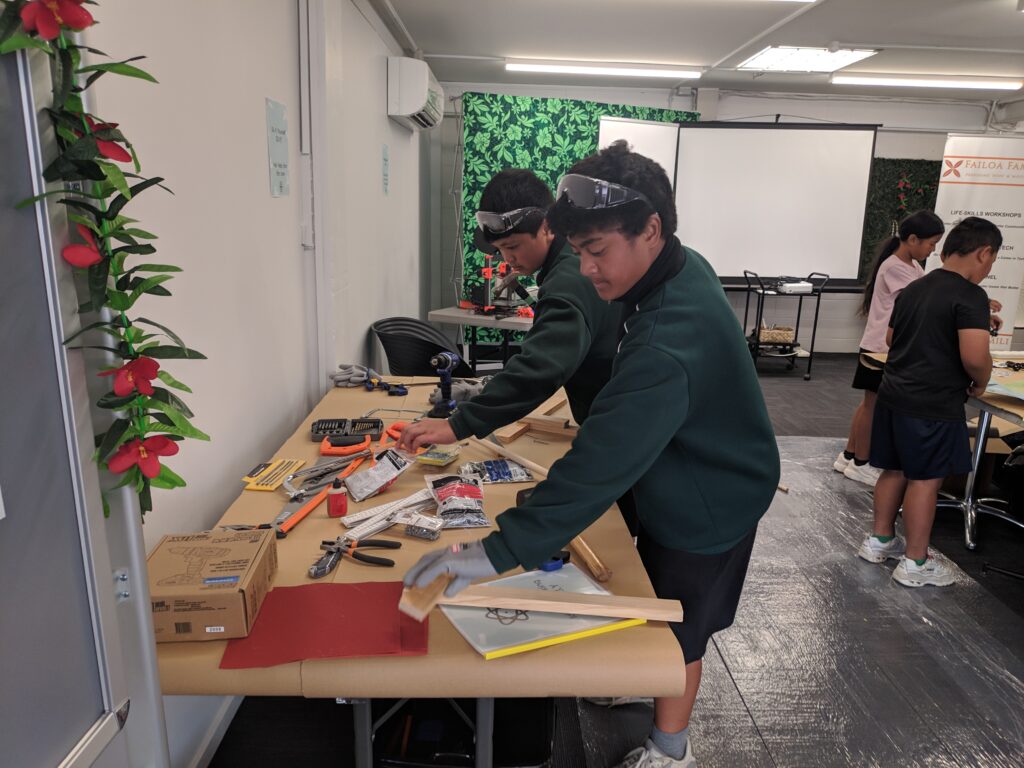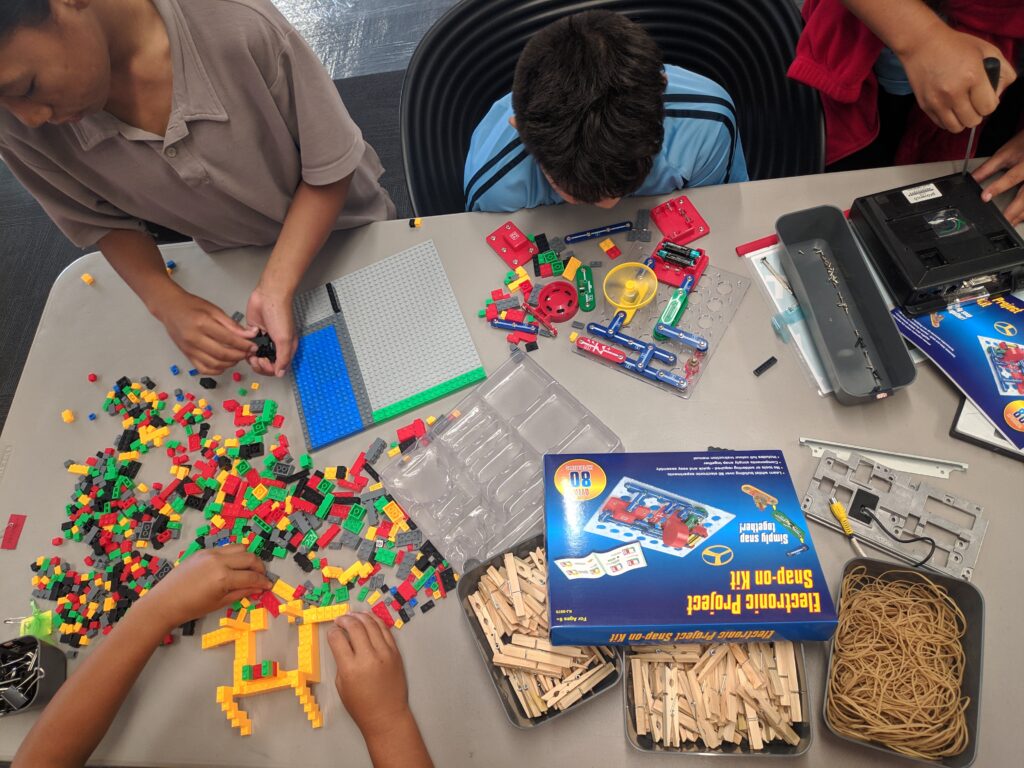 During the second week of the pop-up, space turned into an imaginary city, where each young creative created their plot of land and built whatever they thought the city would need. From hospitals to space stations – you name it, we had it!
Short-form workshops – bringing in the professionals
Creating connections with mentors and practitioners who share their craft and knowledge help to widen kids perspectives and inspire them.
VIVISTOP Mini#1 had three special workshops co-created with local mentors: Light Makers, Creature Creators and Community Heroes.
Light Makers – cardboard lampshades
Light Makers was focused on creating a lampshade using just cardboard and glue. Cardboard is widely used as a prototyping material and it is readily available everywhere. But making a final product from this paper-based material, was something new to consider. Participants had an opportunity to use pre-designed and cut materials and/or design their lampshade from scratch.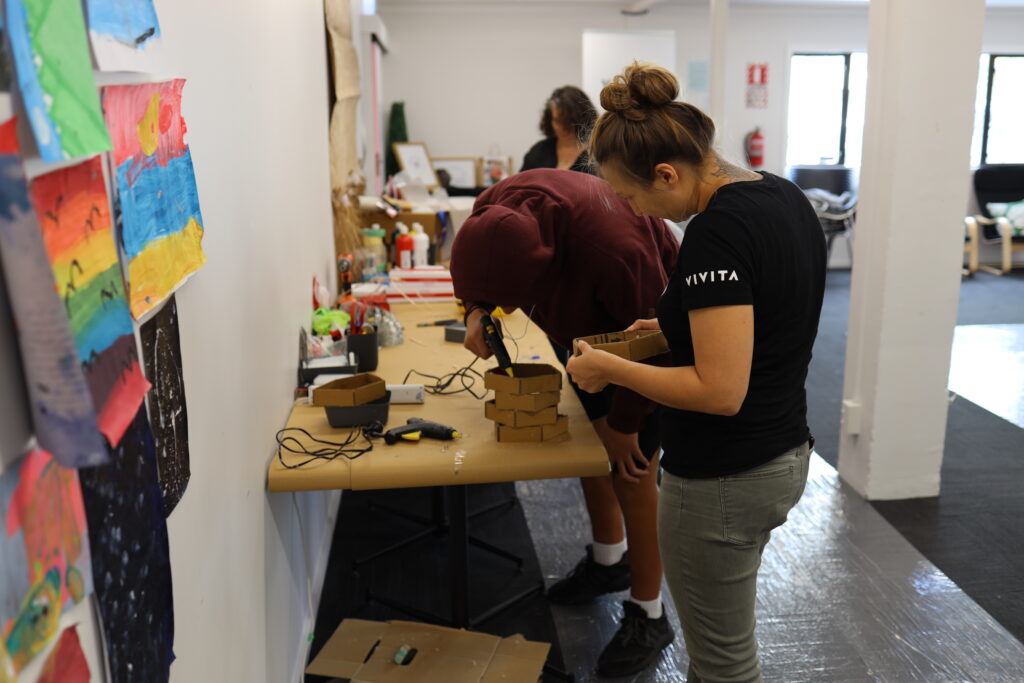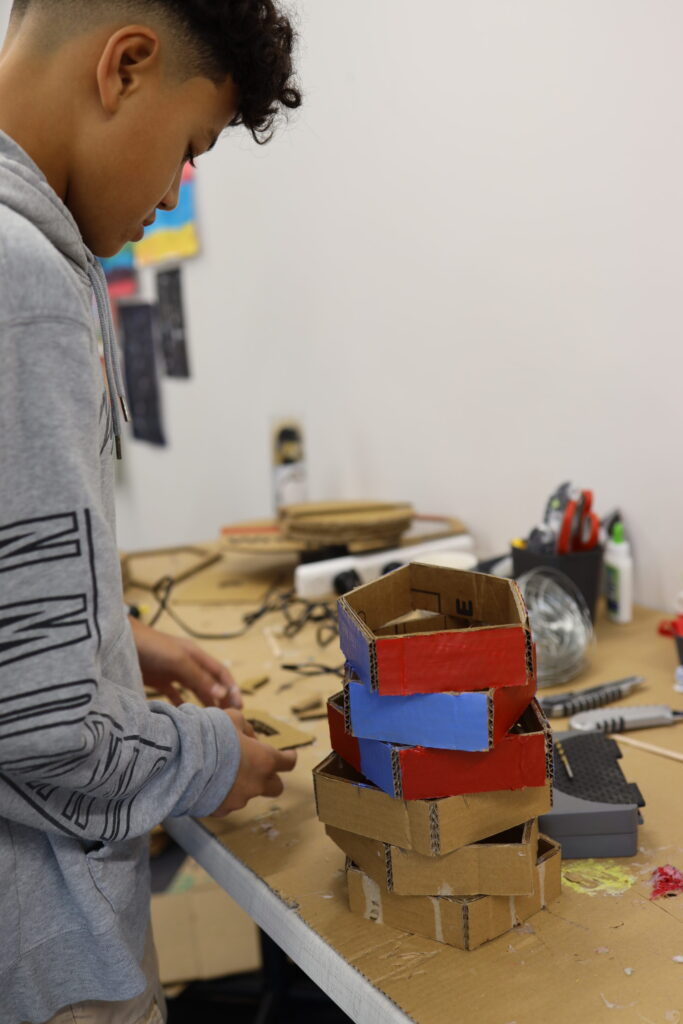 For a final touch, the new interior design objects got a lovely paint cover.
Creature Creators
Creature Creators workshop opened up a world of professional sculptors who make monsters and creatures as their profession. Mentors James and Will, seasoned professionals from the film and games industry (Weta Workshop, A44, Bron Studios), had many tricks and tips up their sleeves to get the kids going with their creations.
First up the participants learned a "doodling" method. As the name says it's just scribbling on a paper to find ideas for drawing. From some scribbles, eyes might emerge, other lines might resemble ears. A few tries and monsters later, participants were ready to work on their final creatures using paper clay. Paper clay is a great modelling tool for at-home creative projects as it doesn't need special treatment and air dry to a finished model.
The secret to a great clay-creature is in a strong base and a sturdy armature. Our mentors showed a unique way of using aluminium foil and moulding tools to create a solid base for the creature. Armature for any dangly bits was created using metal wires.
Adding clay was the last and final step for finishing the creatures with finishing touches on the creature's appearance.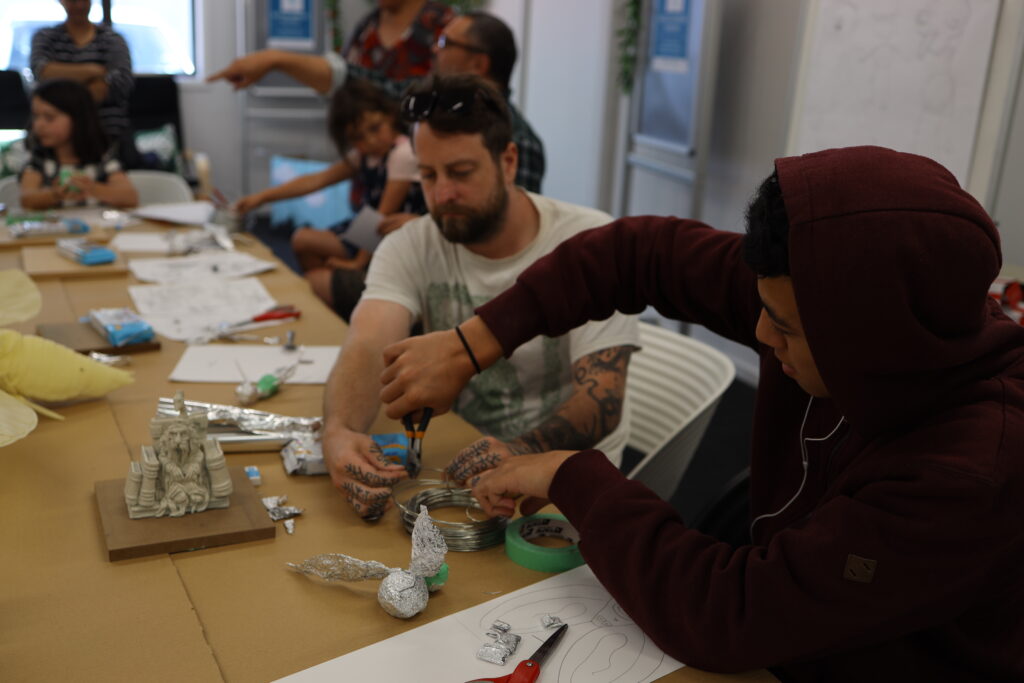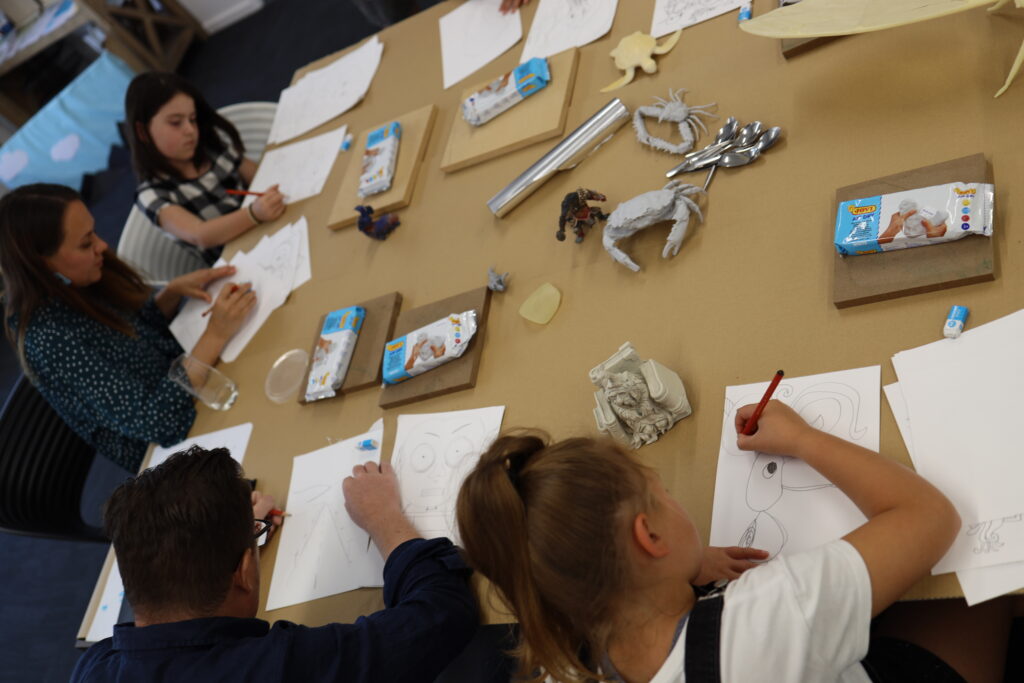 Community Heroes
Community Heroes workshop was a creative problem-solving workshop aiming to find issues that mattered to young participants and finding a potential solution for them. This workshop used a design thinking approach, which is used globally to solve big and small problems alike. The design thinking approach helps to imagine and empathize with the problem, come up with various solutions to solve it and choose the best which would be prototyped and shared for feedback. Just like the creative spiral a creative problem-solving needs.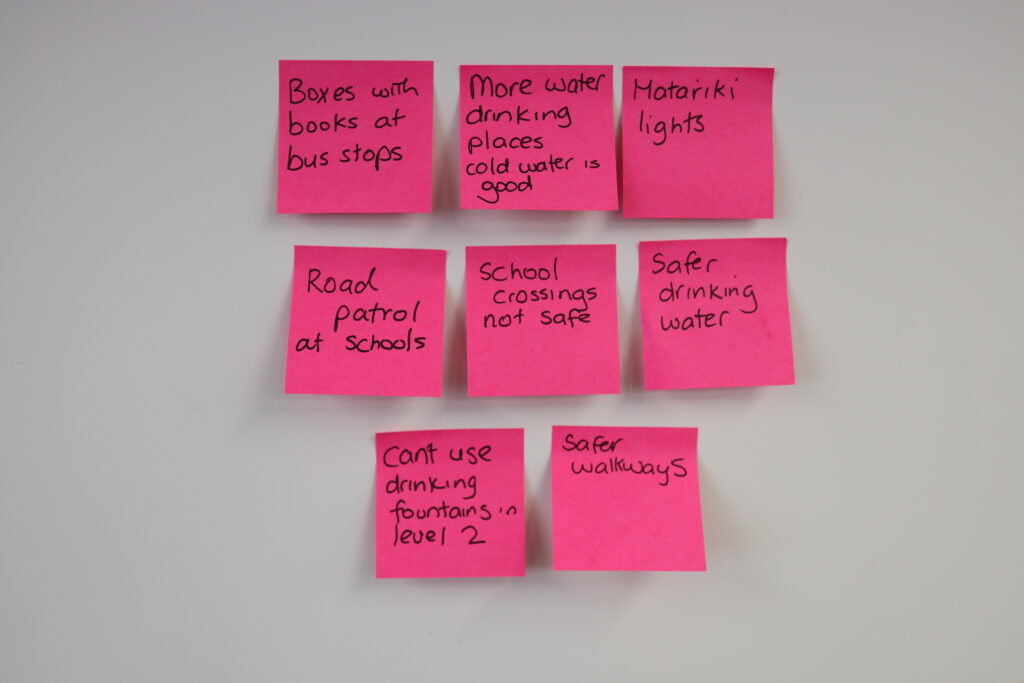 With the help of mentors and professional agile coaches, Diana and Norie, participants went through an ideation process to find the problems they would like to solve. As a surprise guest, Hutt City Major Cambell Barry visited the workshop and provided valuable know-how about the issues the kids were aiming to solve. This helped them to refine the idea and even reconsider some of the initial thoughts. From an idea to prototype, all participants ended up prototypes that were both creative and innovative.