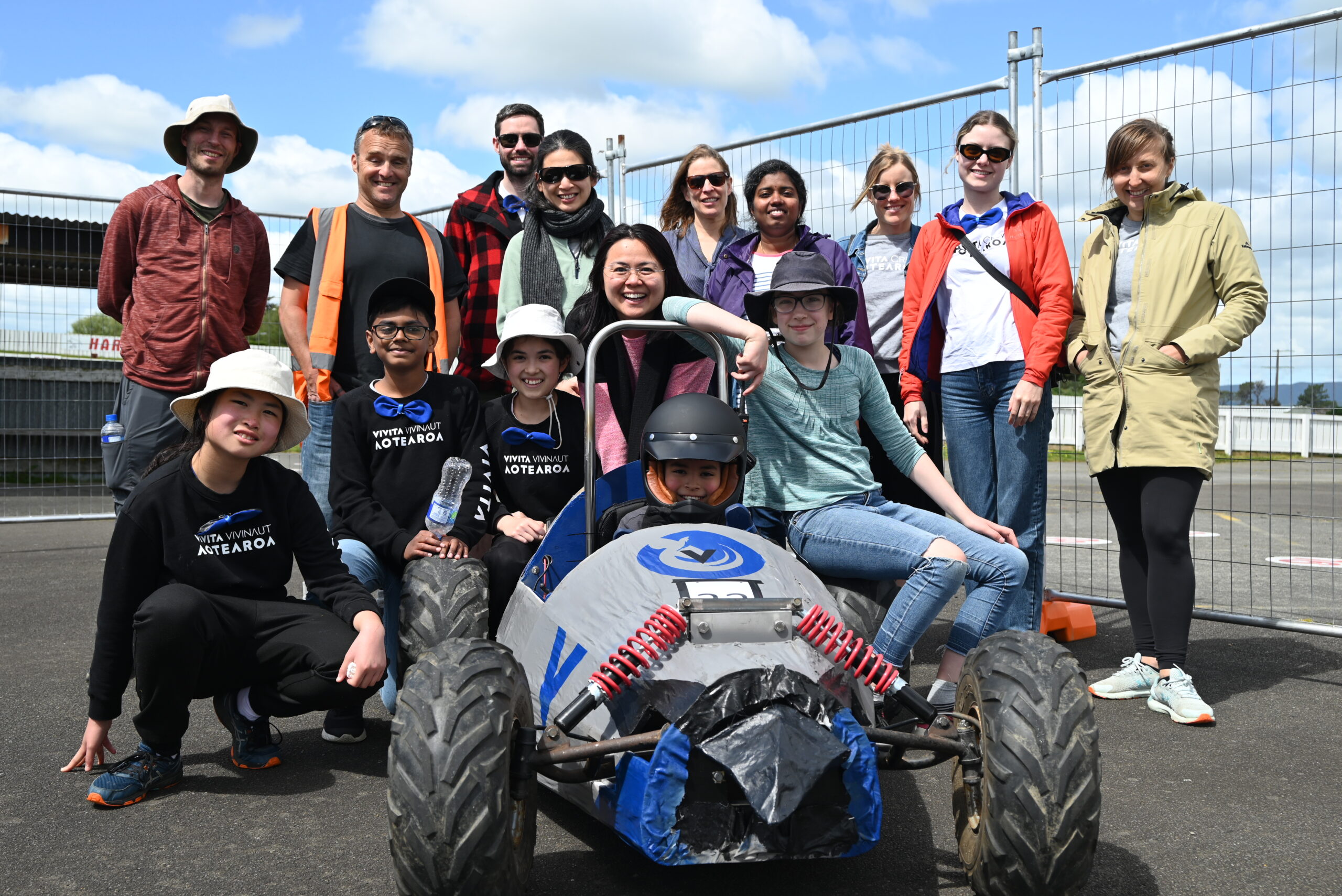 general
news
partnerships
workshops
Hold onto your hats, your socks, umbrellas and coffee cups – we've got some gloating to do…
Since March of 2022, we have been working hard to imagine, design, iterate and build an electric vehicle. Yes, you heard it right. We built a sleek, functional and downright awesome go-cart powered by an electric battery that zoomed it's way around Manawatu Race Track in Palmerston North. Just to be clear, when I say 'we', I mean the gifted kōkako team of gifted 9 – 15 year old VIVINAUTs who put their hands up for this long-term challenge.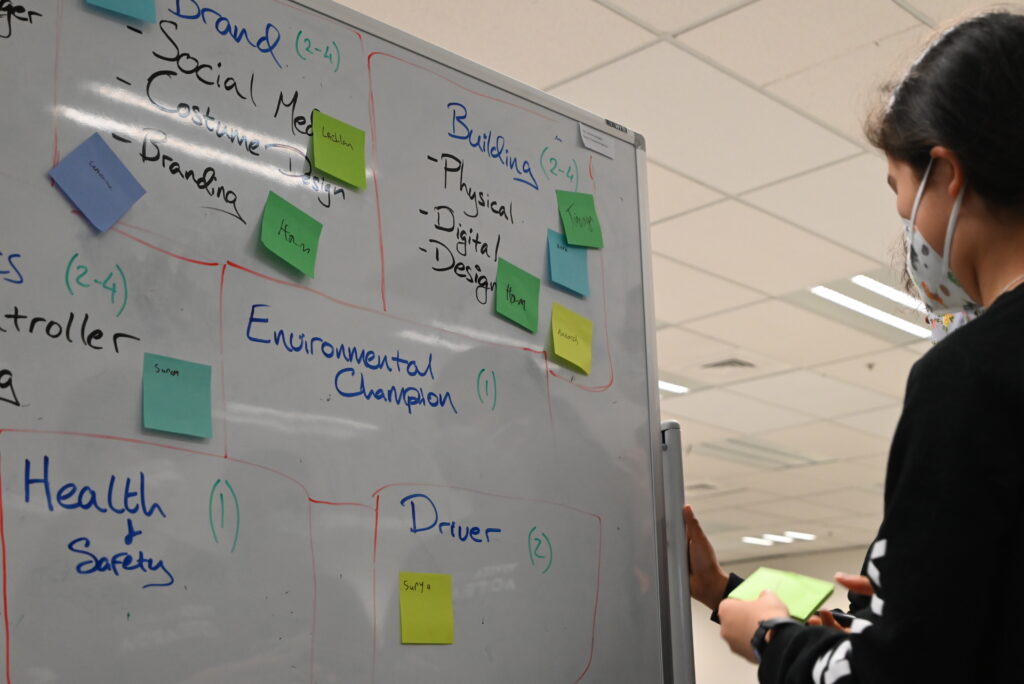 EVolocity is usually targeted at the latter end of High School aged students, but as with many things, our kids pulled an Elphaba and defied gravity to participate in this educational and innovative programme. Before we get into the highly anticipated Race Day, let's look back on the last few months of progress.
As with any project, this one began with a conversation with parents and crew: Can we do this? Is it plausible? Are we thinking too big for our demographic? Upon observing out talented cohort, we readily placed the challenge in the hands of keen kōkako's and let them know of the challenge they were taking on. It would take persistence, resilience, collaboration and mindfulness. Few young people get this opportunity to be a part of something with such a fulfilling outcome, and our kids were all in for this one.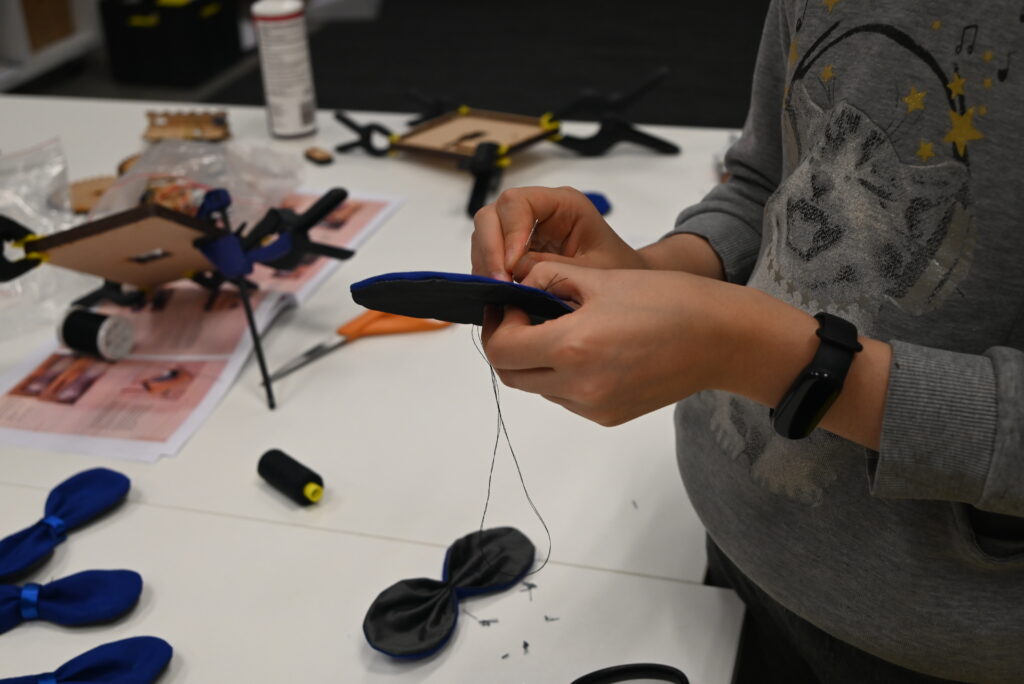 Roles were assigned, tasks delegated and the team divided into design, build and engineering sectors. We needed attention directed at every aspect of the vehicle from it's interior engineering to the flash costumes the driver would wear in the prime racing seat. In and out of the studio with the help of their dedicated parents, the kids worked tirelessly to make this project all that they hoped for. Making frequent trips to local tip shops for recycled materials and to Anthony Davies (Ants) of Fabricon's workshop out in Lower Hutt.
From a cardboard prototype, to a sturdy go-kart ready for the track, the progress made and lessons learned were exponential! As with any passion project, there were bumps along the road, but none our team couldn't handle. After some close calls pertaining to whether we would make it to race day, perseverance shined through and we are so proud of this journey. We hope that this can act an inspiration for other members to embark on bigger, crazier projects!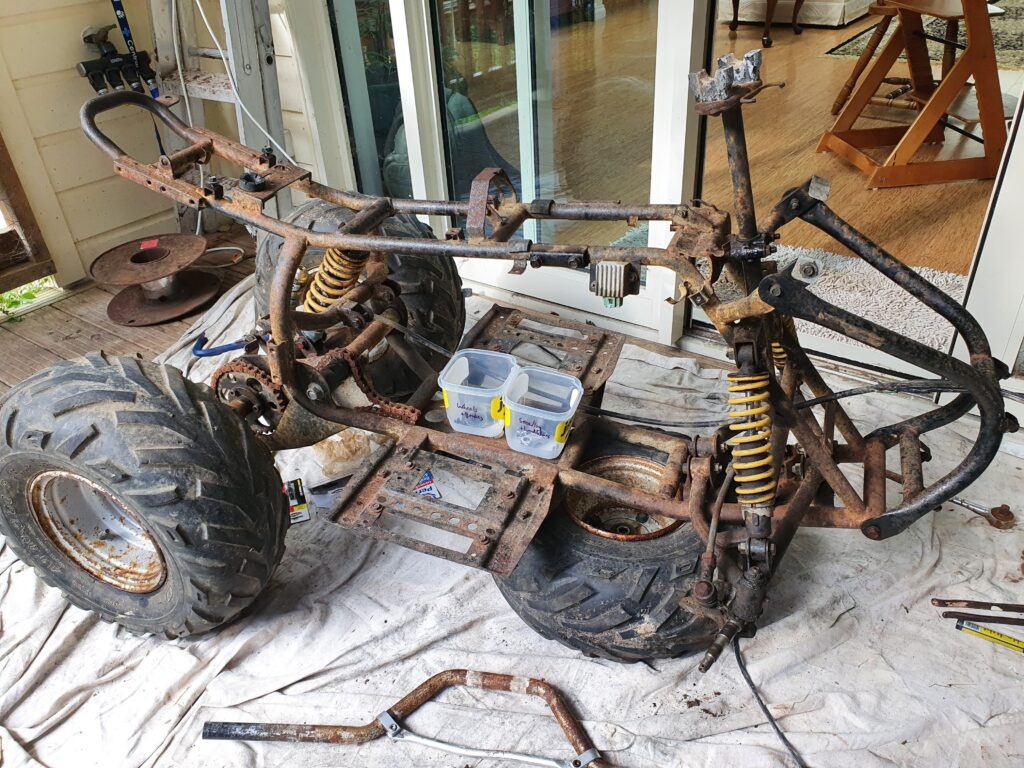 Now, the eagerly awaited moment… Race Day!
The race took place at Manawatu track in Palmerston North, so a road trip was on the cards. The only down side; we had to be there at 7:30am. With a 2 hour drive ahead of us, that meant waking up before the sun to reach out destination in time. VIVITA crew hit the road along with the kids and their parents. We arrived to a sunny morning and bee-lined for caffeine (the crew, not the kids). They were far too pumped up on a adrenaline to look anywhere but to their manicured vehicle that made it's dramatic entrance to the line up with the kōkako logo beaming brightly in early sun.
Scrutineering began to ensure all of the vehicles were safe for racing. After a few adjustments, we garnered the red tick to show that we had passed all necessary checks. All departments got busy attending to final details and pretty soon, it was time to assemble on the track.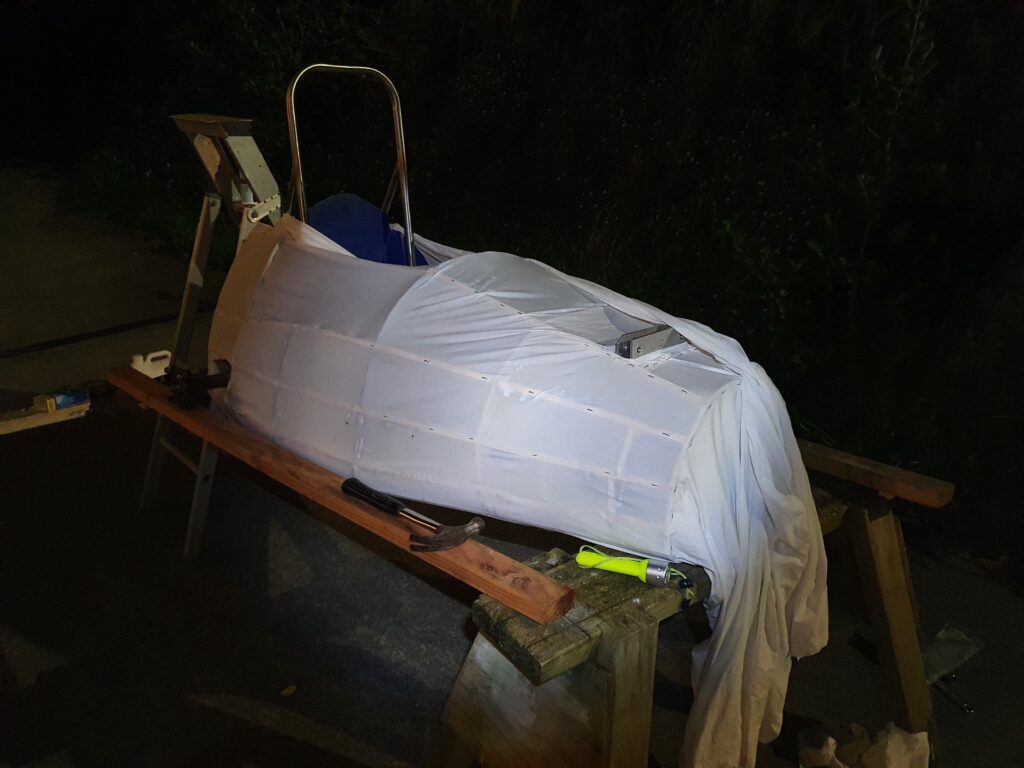 Our eager beavers were first in line to run the first race of the day – Gymkhana: Around 3 laps, drivers had to weave in and out of cones, pick up a baton and place it in a new bucket, and successfully transport a small vat of water across the finish line. Being the first in line meant a touch of confusion as to what the most efficient run of the race would be. But after a speedy first attempt (and a minor off road diversion toward the photographer) they finished the run and prepared for their next attempt. Each try was better than the last and we commend all of the other contenders for their ingenuity toward design, function and commitment efforts.
Next was the drag race: How fast can your vehicle go? As we approached the finish line, wind zipping past our aero-dynamic body, suddenly all momentum began declining. The chain had slipped! Our support team rushed to the scene to see what they could do. Little legs mustered up energy to run back and forth from the tool box, handing any tools necessary to save our poor kōkako. In this high stress environment, all members put their knowledge to the test to finally repair the malfunction.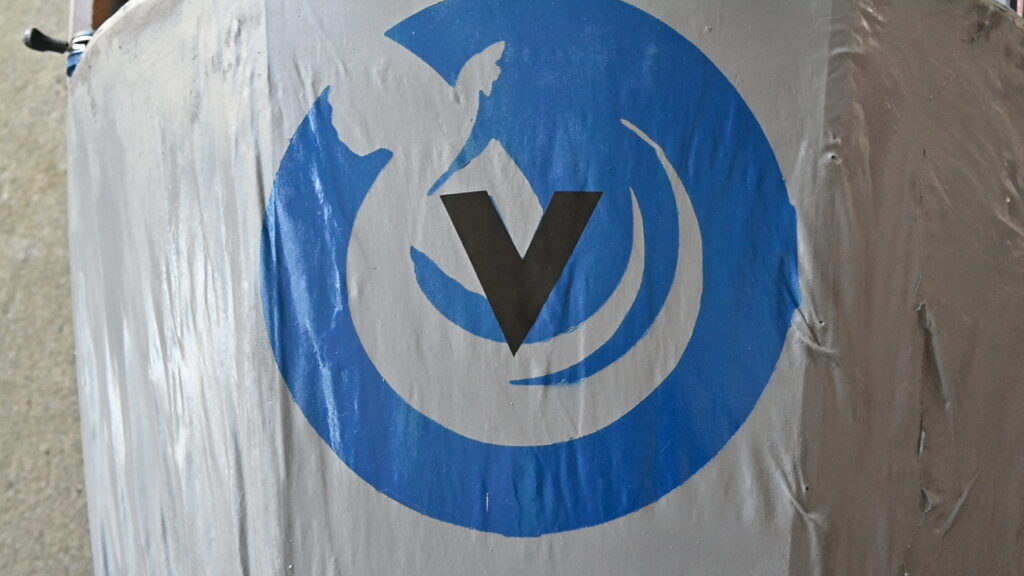 Test 3 was the endurance run. Drivers had to zoom around the track 4 times (or for 20 minutes, whatever came first). Unfortunately, we experienced an encore of malfunctions and made it through just one lap of the course before strolling to a stop. Despite the final instalment of the day not going entirely according plan, the team were thrilled that they had the opportunity to see their hard work pay off on the course.
A well deserved pizza lunch was served, thanks to Dominoes pizza before the teams eagerly raced back out to have a free run on the course. The crew and parents watched with pride as the kids had an awesome time playing around with what they had worked so hard on for so long.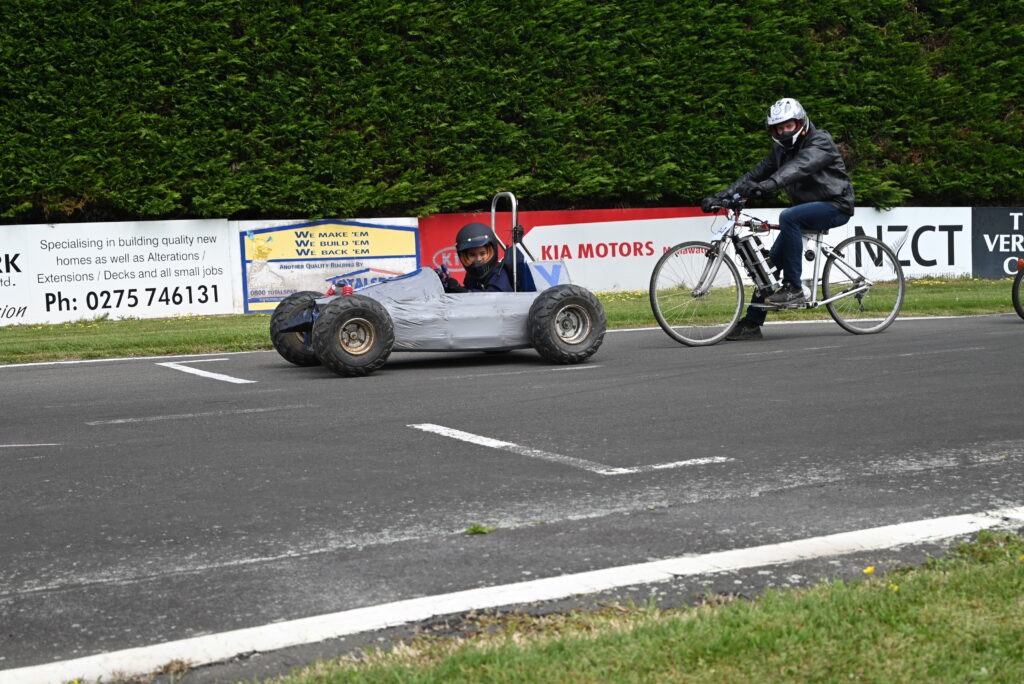 To end the day, prize giving was held with various awards being given out for achievements beyond who was the fastest. EVolocity is truly about education, innovation and sustainability, so it was important to recognise this with the accolades. A big shout out to all of the schools that took part! Each vehicle was unique and impressive and the team spirit was at a tangible high.
Our team was stoked and surprised to bring home a 3rd place in the overall standard kart category, 1st place for Innovation in Data display, 1st place in Earth Care and also a spot prize for Aadarsh, who brilliantly explained the data pertaining to the electronics of the car. Parents and competitors alike were blown away by the natural talents of our kids who were the model of VIVITA on this outing.
Exhausted bodies drove back home feeling pretty chuffed with the day gone by. We are so proud of the team that stood by this project through thick and thin and showed up as fierce competitors for this years race. We hope to square up to many more ambitious endeavours in the future.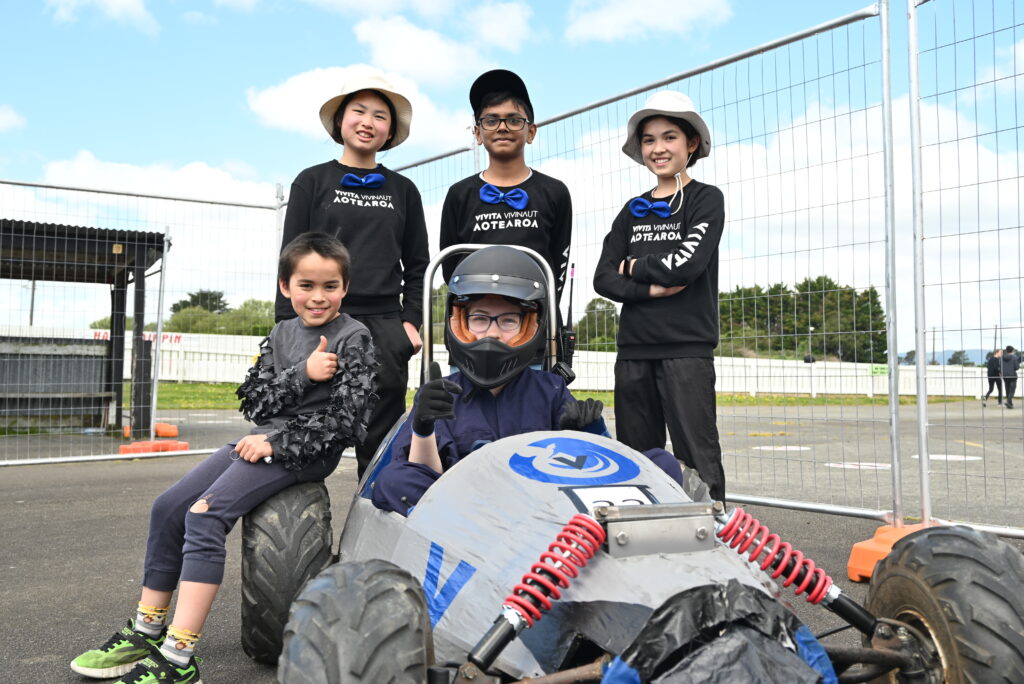 A shout out to all of those who supported us along this journey:
The dedicated parents of our members!
Fabricon – Anthony Davies!
Cemeck Engineering Ltd
Joe Harrison
David Angus