Moving Images – DAY 2
VIVISTOP Mini #4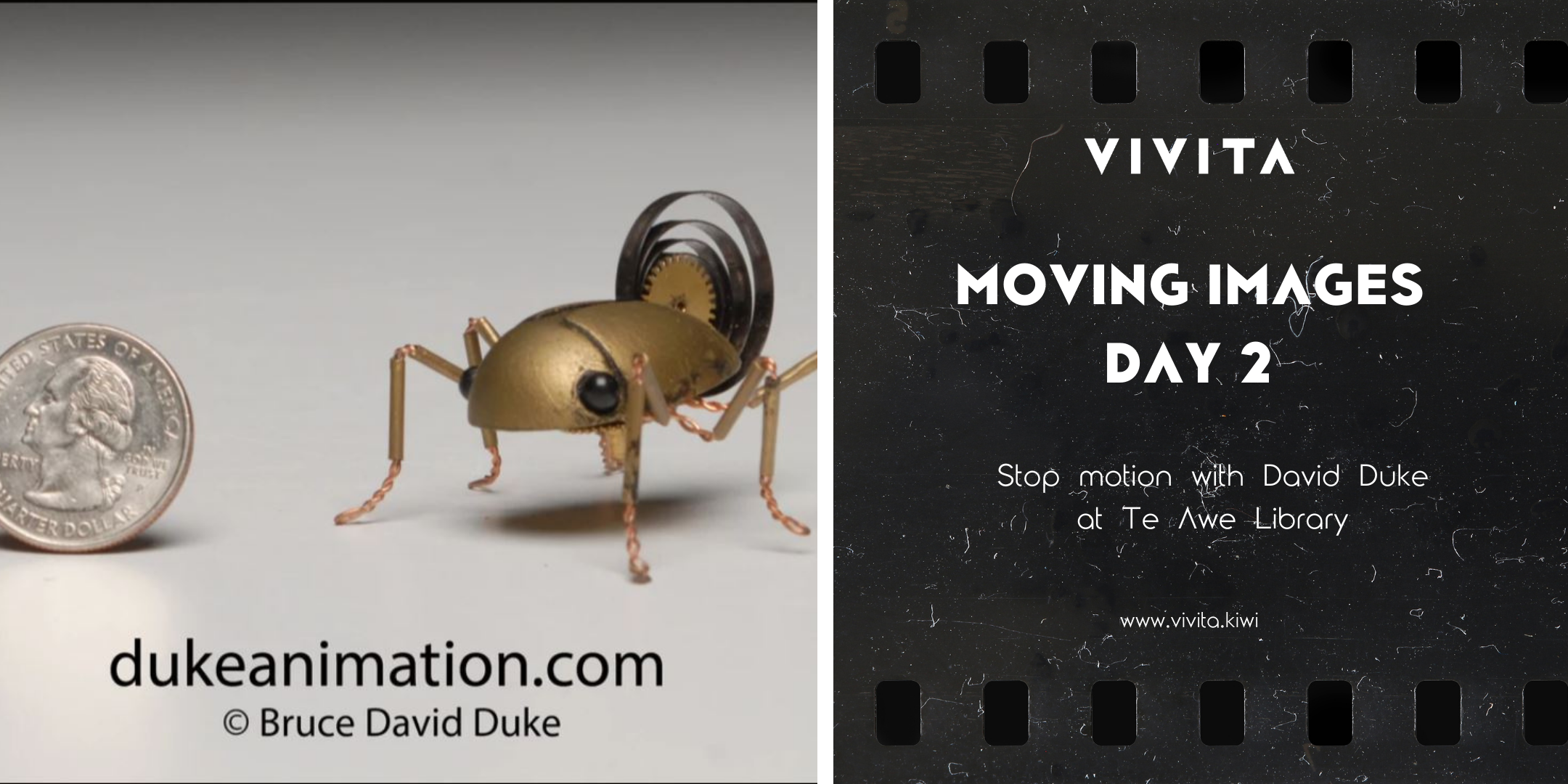 Te Awe Library, 29 Brandon Street, Wellington Central
Moving Images – DAY 2 stop motion with David Duke
Become immersed in the world of still characters and moving images inspired by mythical places and unnatural sites. David Duke, a Weta Workshop creative, will be sharing his knowledge and passion for stop motion animation which started at the age of 9 with seeing Jurassic Park.
David will be running a three-hour workshop showing his professional secret tips and tricks on how to get started with your own stop motion animation project.
Be inspired by David's work and his world:
Website: https://www.dukeanimation.com
Instagram https://www.instagram.com/dukeanimation/
The event is FREE to attend for kids ages 9-15
This is the second event of a three-day event series. To attend DAY 1 and DAY 3 please register through the links below
More info on VIVISTOP Mini – Moving Images
Do you know how to make images move? What it takes bring puppets to life? Or how to give them a special voice?
Well, you are in for a treat! This three-day workshop happening in various locations in Wellington CBD will bring you behind the scenes to learn from some of the most fabulous animators, stop-motion creators and sound engineers hidden in the city.
Each day of the workshop will teach you a unique skill, which combined can help you to make your very own stop-motion animation!
Attend as many or as few workshops as you wish.
Moving Images – DAY 1 (12th of June) animation with Fox&Co Design
Register here: https://vivistop-mini-4-day-1.eventbrite.co.nz
Moving Images – DAY 3 (26th of June) creating sound
Register here: https://vivistop-mini-4-day-3.eventbrite.co.nz
What are VIVISTOP Mini's?
VIVISTOP Mini's are free short format workshop's bringing together creative kiwi kids and fabulous local talent.